Friendship Greeting Cards
You are feeling bored without the email of a friend or not in touch with him/her. To match your taste we have keep in touch cards and free keep in touch e cards.

Free E-cards For Internet Friend
Something for your internet savvy friend to say with a touch with thisCard for Net Friend.
[Video Card]

Keep in Touch Card
Cherish your friendship in a straightforward way of simple pleasure in having a worthy friend with this Keep in Touch Card.
[Video Card]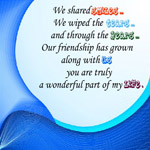 True Friendship E-Card
You can expose your friendhip by sending this True Friendship E-Card to your friend for free.
[Video Card With Music]