Birthday Gifts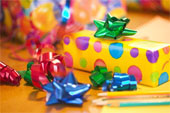 Birthday is a special occasion most awaited irrespective of the age. It is a date which remains special throughout one's life. It is the day he/she came to this world. Birthdays signify that the celebrant get older by one year and wiser. Birthday comes every year and we must give unique birthday gifts for our loved ones. This is a very tough task but we can come up with a new unique idea if we are creative. People will always love birthday gifts that are unique and creative.
Birthday gifts for newborn baby You can gift a newborn baby with a baby set, which includes clothes, nappy, baby lotion, powder, towel, etc. You can also gift him/her with toys. A cradle or walker is also a nice gift for him/her.
Birthday gifts for children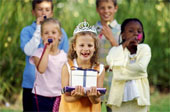 On his/her birthday, gift little children a set of puzzles. Videos and story books of their favorite cartoon characters can also be very special for them. You can also opt for building blocks and models, dolls, educational toys video games, musical mobiles, games and puzzles, and other learning toys. A cricket set for boys and Barbie set for girls can also be a pleasant birthday gift.
Birthday gifts for women Women have a craze for clothes. Buy clothes according to their fashion. Women love jewelry. Depending upon their taste and your budget, you can buy a fine piece of jewelry. You can also gift personalized gifts like her photo-collage of her life. Gift a pendent with her name engraved. Gift Cosmetics which she likes very much.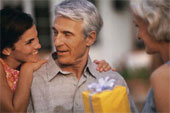 Birthday gifts for men You can gift him a nice suit, watch and a pair of shoes in a birthday combo. A leather wallet, electronic diary, tie pin and bracelets are something that are liked by most of the men. A shaving kit is also a good option as a birthday gift. If he is a movie freak, buy him the latest collection of the movie DVDs.