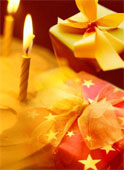 Everyone looks forward to birthdays, be it your own or your loved ones. Birthdays are special as we get good wishes from friends and family. Birthdays are times when we get so many good wishes and thank God for giving us all the good things that he had given us in the past years. Warm birthday wishes are meant to make your friends and loved ones feel special!
There are many quotes by famous personalities who have described birthdays in their unique ways. So next time instead of saying or sending the same old "Many, many happy returns of the day", try some of the following birthday quotes.
"And in the end, it's not the years in your life that count. It's the life in your years."- Abraham Lincoln
What could be more beautiful than a dear old lady growing wise with age? Every age can be enchanting, provided you live within it. - Brigitte Bardot Birthday love quotes take you to a majestic world, which is full of love and good wishes for the birthday person. The nicest gift, which can be presented to a person on his or her birthday, is that of love. In fact these birthday love quotes are an elegant combination of beautiful words, which give you a perfect way of conveying your best wishes for your loved ones on their birthdays.
Some of the popular quotes are:
The more you praise and celebrate your life, the more there is in life to celebrate. By Oprah Winfrey
And in the end, it's not the years in your life that count. It's the life in your years By Abraham Lincoln
They say friendship is the most beautiful feeling in the world. When you want to express love to someone special, there is a beautiful collection of famous friendship quotes for expressing your feelings to your dear friends and letting them how precious their friendship is to you.
What is a friend? A single soul dwelling in two bodies.
Friendship is the golden thread that ties all hearts together.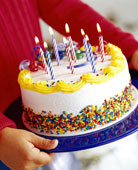 Birthdays are never complete without greetings and wishes from near and dear ones. Instead of the usual messages, it is a good choice to go for some funny birthday quotes to cheer up your friends. If you want some really funny birthday quotes here are a few birthday quotes that are funny and subtle as well. Birthdays are time for fun and frolic and remind people that they are growing older. There are various ways of wishing happy birthday to your friends.
"Time and Tide wait for no man, but time always stands still for a woman of thirty."
"As you get older three things happen. The first is your memory goes, and I can't remember the other two."
"A diplomat is a man who always remembers a woman's birthday but never remembers her age."
For all those who want to give birthday greetings to loved ones, don't just say 'Happy Birthday'; say it with a happy birthday quotation and you can leave an everlasting impression. If your partner's birthday is getting closer, nothing can show them your love more than a beautiful love quote. So here are some of the best birthday love quotes you can use.
On this wonderful day, a star of pure love appeared to be my gift... my present and my future you!! I am very thankful for all the joy you bring into my life! Happy Birthday!!
Love is not a matter of counting the years, but making the years count.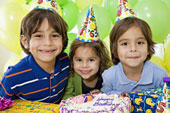 Though sending birthday cards is still a traditional mode of sending birthday wishes, with increasing use of cell phones, sending text birthday messages is becoming more popular for the simple reason that sending a message by phone hardly takes time and is convenient to send anytime you want to. Some of the birthday messages are:
Your birthday is a celebration of the special bond we share sending you my sweet wishes to say hope your day is as wonderful as you are happy birthday!
You're someone special With a beautiful heart Happy birthday!
Wishing friends or loved ones on their birthdays adds to their cheer. So go ahead and make this day all the more special for them.