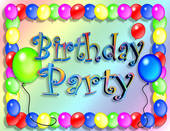 Throwing a birthday party is a lot of fun but at the same time, it needs a lot of work and advance planning. The first step is to decide on the budget for the party. Try to pick an inexpensive location. If it is a birthday party for kids, Parks and backyards are perfect for large groups - they're free, and there's plenty of room to have fun. Decide on the games you are planning for the kids. Bring out the old favorites, like pin-the-tail-on-the-donkey, duck-duck-goose, red light/green light or musical chairs or you can get more ideas by talking to other parents, checking a party games book out of the library, or searching the Web.
When you decide on the food served, try to keep it simple and fuss free. Though the easiest option is to get the party catered, to make it more personal and if it is a small gathering, it is better to make the food at home. Purchase any premade foods in bulk, and remember that kids are usually happy with inexpensive foods like hot dogs and burgers. Have plenty of snacks such as chips and crackers.
As for birthday invitations, handwritten or computer-generated invitations work well and add a personal touch to the party. Or, if your child's friends all have e-mail addresses, you can mail them. Buy decorations, game prizes, paper goods and candy from discount stores. Use paper lunch bags as goodie bags. As a fun activity, have the guests decorate them at the party. Fill them with candy bought in bulk, and think about buying some low-cost gifts in quantity as well.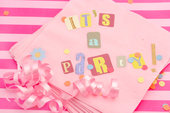 Friends and family members often like to put together surprise parties for their loved ones. The hard part is to keep the party a secret and making it a surprise for the guest of honor. There are ways to keep surprise parties a surprise, but the party planners have to be committed and sneaky. There are a lot of great decorative ideas you can use for your surprise party. You can have a special themed party sending the partygoers back in time, especially when the party is a birthday celebration. A 70s, 80s or even 90s surprise party can really surprise the guest of honor and brighten their day. There are a lot of party themes to choose from like cartoon characters, sports, movie, TV shows, western, holidays and unique crazy fun theme ideas.
Teenagers love nothing more than friends, food and shopping. Any combination of these will make for a great teen birthday party! A birthday celebration is a good combination of food, fun and recreation. This is an occasion which offers extra opportunity for your teenagers to celebrate with friends, and family. Planning your teen birthday party can be a very challenging job, because it is almost impossible to assume your child's mood and his current point of interest. Certainly you would want the party to be special and a fun activity where all his or her friends enjoy along with him or her.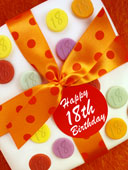 18th birthdays are one of the more special birthdays because they are considered adults. This is also the year that most of them usually graduate and are going off to college soon. That would be a good 18th birthday party ideas, getting them something for their dorm room for when they go to college. There are other things to get them depending on what their tastes are, like Cd's, movies, or clothes. These are good things to get them if you are one of their friends, because it's hard to spend a lot of money when you really don't have that much to begin with. Another good idea would be to get them a gift certificate somewhere which really helps when you don't really know what kind of Cd's or movies they like or even what size clothes they wear.
If you are their parents or family member that wants to get them something special you can always get them something a little more expensive that they might enjoy. An iPod touch or some other kind of MP3 player would be a great idea because they can use them anytime. Another good choice for parents would be maybe some designer clothes; the most important thing is that you bring them a lot of fun on their 18th birthday.
Another thing you could get them would be a specialty cake, there are a lot of cake shops out there that will make specialty cakes that look awesome and that can be totally personalized. These are very special because the person will remember them forever. You can find these specialty cake shops all over by going either on the Internet or going to your local phone book and finding one in your area.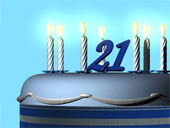 A 21st birthday is a big event for family, friends, and of course the special birthday boy or birthday girl themselves! Planning a 21st birthday presents lots of options, but the biggest decision one has to make is whether or not to have a theme Consider a theme for your upcoming birthday, and remember to give your guests some warning so that they can devise a costume too. Some themes which are all time favorites are a formal dress code party which gives everyone the opportunity to dress up and look their smartest. A formal 21st will encourage formal proceeding, such as the infamous 21st speeches. There is the Masquerade theme having everyone dressed up with masks.
Your birthday is one of those days you remember throughout the year. Hence, a birthday is a great day to spring some romantic surprises on your partner as they are sure to be remembered for months to come. Here are some ideas for a great romantic birthday: You can start the day with breakfast in bed. You can put your creativity to good use by making a nice wordy birthday card which gives a nice personal touch. As for the birthday present, you could get them a main present but also get them a little special something extra and keep it hidden. Present it to them when they least expect it – after the other presents have been opened.
Another nice touch is to have a cake with a photograph or illustration on the icing. Many of the major supermarkets offer this service. Simply order the cake size you want and give them a photograph/digital image and they will print it onto the cakes surface using edible ink! If you are planning a surprise for your wife, a good idea would be to treat her to a manicure, pedicure, massage or a spa. If you are planning for your husband, then maybe he'd like a nice meal out at your favorite restaurant, or a trip to watch a cricket or foot ball match. If you don't feel like spending the earth then, it is good to go out for a nice walk in the countryside, or get a film in from the video shop.