Birthday Celebrations
Birthday Celebrations :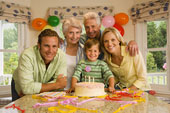 Birthdays are cherished moments and fun times to celebrate the anniversary of the day when we were born. Birthdays celebrations are marked with euphoria and joy. A Birthday is a time to host a party, invite guests, deck up the party scene with balloons, cut birthday cake and be showered with heart-warming gifts. Celebrations are an integral part of birthdays and people leave no stone unturned to make the big day a delightful and unforgettable experience. Whether it is your birthday or the birthday of someone close to you, it will always be an occasion that remains the reservoir of happy memories and wholesome family fun!
Birthday gifts are the testament of your love, care and appreciation. Gift giving is an art and requires an intense thought process. It's crucial to select a perfect gift that echoes your heart pounding emotions. There are host of birthday gifts available in market stores keeping varied preferences and inclinations of buyers in mind.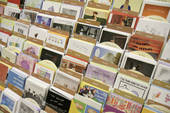 Birthday cards are the easiest and hassle free way to convey your wishes. When words seem trivial and pricey gifts lose its charm - one can rely on cards. A greeting card is tantamount to a gift. Adorned with beautiful imagery .and tender quotations - cards spell its magic instantly - bringing smile on everyone's face. It is indeed a unique gift for your loved ones to receive a birthday greeting, exclusively selected for them. What better way to commence on a new start, then to celebrate it with loved ones? Jazz up your Birthday Party and dance to the tunes of groovy numbers. Do away with the birthday blues and make it unique with innovative ideas.